Multipoint  Video Conferencing of Viettel IDC – Vietnam
I.    OVERVIEW
Multipoint Video Conferencing operated by Viettel IDC uses technology platform and Collaboration Solutions of Cisco. This system will provide customers the following benefits:
–    Meeting and conference room system  with professional genuine Cisco devices
–    Long – distance meeting, training and interview with realistic image and sound qualities
–    Minimizing investment costs for Multipoint Control Units (MCUs) when hiring the service with low costs
–    Advanced functions supporting connection of meeting rooms by applications on mobile (Android, iOS) and PC
II.    THE FEATURES OF THE SYSTEM
2.1.    Multipoint Video Conferencing Solution of Viettel IDC includes:
–    Various kinds of genuine Cisco endpoint devices suit every customer and every size of meeting rooms
–    Multipoint control unit software system is operating in data center of Viettel IDC to ensure that processing efficiency is high and the quality of communication lines to the system are always stable
Besides, Viettel IDC provides lump-sum specialized physical MCUs devices for customers who don't have the demand of hiring the service.
2.2.    Endpoint devices
Endpoint devices have optimal designs for various using purposes:
–    Three dimensional (Immersive): TelePresence rooms have optimal designs and suitable customization including some features such as light, cameras, tables and microphones, which make customers feel that they have face-to-face communication.
–    Multipurpose: TelePresence system is optimized for various rooms and environment.

–    Personal: Special design for individual using at office or at home with flexible working applications
2.3.    Multipoint Control Unit System
a.    Multipoint Control Unit Service
–    Viettel IDC invests to infrastructure in order to build Multipoint Control Unit System focusing on providing Multipoint Control Unit Service to minimize initial investment costs of devices for customers
–     Viettel IDC applies the processes and system of real performance evaluation  to ensure the operational implementation and maintain the stability of the service provided to customers.
b.    Multipoint Control Unit Devices
Viettel IDC provides genuine multipoint control unit equipment lines of Cisco for customers who don't have the demand of hiring the service of Viettel IDC
c.    Multipoint Control Unit Solution in Large Scale
For specific customers, Viettel IDC is willing to give advices and provide the concomitant solution of using  multipoint control unit system in large scale for customers.
Solution platforms: the main platforms of Cisco TelePresence for customizable applications
Call and Session Control: Control registration of endpoint devices, session and system policies
Conferencing: devices for multipoint  video conferencing solution
Media Services: Devices for recording calls, streaming, transforming codes and supporting interaction
The devices above are for reference and used according to the actual situation
III.    THE CONNECTION MODELS OF VIDEO CONFERENCING
3.1.    The connection models of 2 points
Two endpoint devices have configuration that help them call directly to each other through internet environment without MCUs devices
3.2.    The multipoint connection models using MCUs system of Viettel IDC
This model applies to customers having more than 2 meeting rooms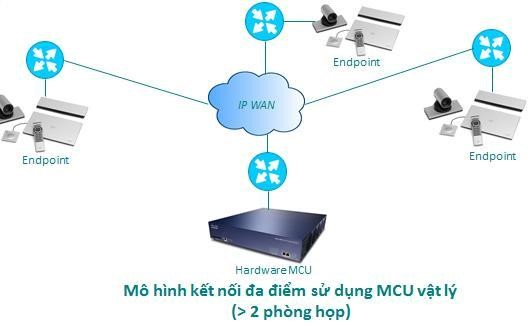 The multipoint connection models using Viettel service – MCU (>2 meeting rooms)
The endpoint devices are connected to multipoint control unit system at data center of Viettel IDC
3.3.    The multipoint connection models using physical MCU
This model applies to customers have more than 2 meeting rooms and demand investment to operate system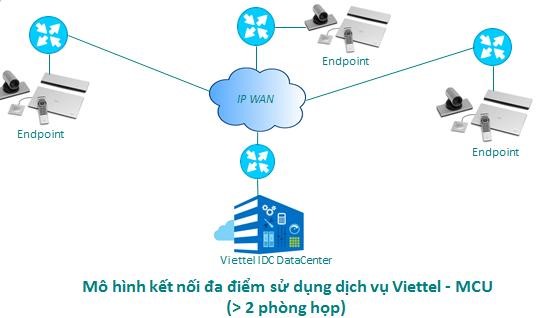 The multipoint connection models using physical MCU (>2 meeting rooms)
Customers invest and place physical MCUs at the center that have high-bandwidth connections
IV.    TECHNICAL REQUIREMENTS
4.1.    Requirements at meeting rooms
–    110  – 220 VAC electricity supply
–    A static IP address in LAN: This IP is not prevented by Firewall. LAN can connect with other conference places  through WAN or Internet.
–    A display monitor (a projector or a television)
–    Speaker systems with amplifying sound feature (if necessary)
4.2.    Bandwidth requirements at points
# of connection
Call Quality (Kbps)
Bandwidth of Call Quality (Kbps) at Center Site IDC
Bandwidth Required (Kbps) at Center Site IDC
Standard Density
1
384
384
461
High Density
1
1.024
1.024
1.228
Orther services at Viettel IDC
Dedicated server leasing services
Colocation services in Vietnam
Cloud server services
Please contact with us:
Address:
– Hanoi capital: 16th Floor, Hapulico, Center Building, 01 Nguyen Huy Tuong St, Thanh Xuan Dist., Ha Noi.
– Ho Chi Minh City: 131 Tran Huy Lieu St, 8 Ward, Phu Nhuan Dist., HCMC.
Hotline: (+84) 944.991.779 – (+84) 986.706.839
Phone: 18008000 – Ext: 423
Email: Hongls@viettelidc.com.vn